While being a second book in The Logan Harper series "Every Precious Thing" is a stand alone read, so readers won't have to be worried about becoming lost if they haven't read the first book (Little Girl Gone).
BLURB:
In "Every Precious Thing" Logan Harper is asked by a friend to help find Sara Lindley the missing wife of a client. She disappeared during a weekend away with her husband Alan. Though reluctantly, Logan agrees to look into the disappearance of Sara and with the help of his father and various characters they set out to find why she disappeared leaving her husband and child behind. The more they learn the more questions develop as a chilling mystery unfolds.
Brett Battles has created a believable story line with lifelike characters whose interactions are just as enthralling as the storyline itself. At the end of the story I was still wanting more and look forward to reading more books written by Brett Battles. I'd give "Every Precious Thing" a strong 4.5 star rating and would recommend it to anyone who enjoys chilling mysteries and/or suspense novels. You can find Brett Battles online at www.brettbattles.com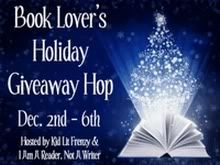 To participate in the Book Lover's Holiday Giveaway Hop drawing for this site become a GFC or email follower and leave a comment telling me which also leave a comment telling me which genre is your favorite and why. Also leave your name and email address so I can contact winner. Prize $5.00 Amazon Gift Certificate. Click image to go to linky to continue "Book Lover's Holiday Giveaway Hop" hosted by Kathy from I'm a Reader not a Writer blog and Alyson from Kid Lit Frenzy.